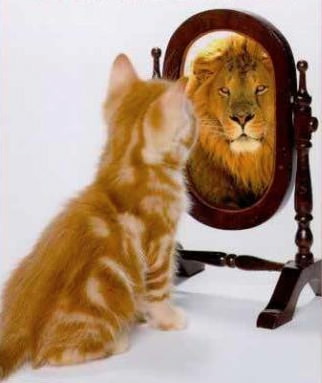 Anyone who listens to the word but does not do what it says is like a man who looks at his face in a mirror and, after looking at himself, goes away and immediately forgets what he looks like. But the man who looks intently into the perfect law that gives freedom, and continues to do this, not ng what he has heard, but doing it—he will be blessed in what he does. (James 1:23-25)
If you were to ask me how I feel about mirrors I would answer - it all depends on their purpose. I love the use of mirrors in interior design! They increase light, enlarge the space and bring visual interest. I also like having a small mirror in my purse for last minute touchups or "fix-its". These are two examples of times I appreciate, or when used in interior design, even "enjoy" mirrors.
So let's talk about times I don't like mirrors....
Ok, I'm going to talk to the gals for a minute... Guys you can go get a soda or check Facebook and join us in a bit...
Ladies - if I was to give you the choice of going bathing suit shopping or getting a root canal, which would you consider less painful?
Hmmm - do I get nitrous oxide with the root canal?....
So why do we hate suit shopping so much that we would compare it to a dental procedure that is universally associated with a very unpleasant experience? I think it has a lot to with the mirrors in the dressing rooms. It's like the department store "designers" got together and said - "Let's see... why don't we first made small cubicles with doors that won't lock (or in some cases even close properly), put in overhead fluorescent lighting that highlights every wrinkle, bump, lump and imperfection, and then top it all off with a 3-way mirror that perhaps we can get from a carnival funhouse that has gone out of business"... (Ok - maybe they don't really get them from a carnival but I'm trying to make a point).
It boggles my mind that department stores think this is going to encourage the consumer to by their suits when the opposite is true. Most women I know will do just about anything to avoid the experience. I find it interesting that this "aversion" is not limited to women over 40, even younger women can identify on some level...
So why can we all relate? Perhaps it's because we focus on our flaws and imperfections and how we don't "measure up" to the ideal standard whatever that might be to each individual.
(Ok guys, you can come back now)
I believe this is how many people relate to the "mirror" of God's Word by only focusing on their shortcomings, imperfections and how they don't measure up.
Well, isn't there a place for that you might ask?
Yes - but the reality is that just as the dressing room mirror can only show you your faults, reading the bible under the old covenant (the law of sin and death) likewise can only "condemn" but has no power to "transform". Notice that James instructs us to "looks intently into the perfect law that gives freedom". The "Perfect Law that gives freedom" is not a "what" but a "who" - it's the person of Jesus Christ! So in other words - gaze intently into the face of Jesus Christ who has freed us from the law of sin and death. II Corinthians 3:18 says - "We all, with unveiled faces, are looking as in a mirror at the glory of the Lord and are being transformed into the same image from glory to glory; this is from the Lord who is the Spirit." Did you catch that? By looking into "glory of the Lord" we are being transformed into His image from glory to glory. Wow! What other mirror can do that?
There is one more point I want to make. After James mentions "looking into the perfect law that gives freedom" the verse goes on to say - "and continues to DO this, not forgetting what he has heard, but doing it—he will be blessed in what he does." So what is James (through the inspiration of the Holy Spirit) instructing us to DO? I believe it is to continue to stare intently into the face of Jesus Christ that we may be transformed into His perfect image from the inside out.